Shopping Center Libero in Katowice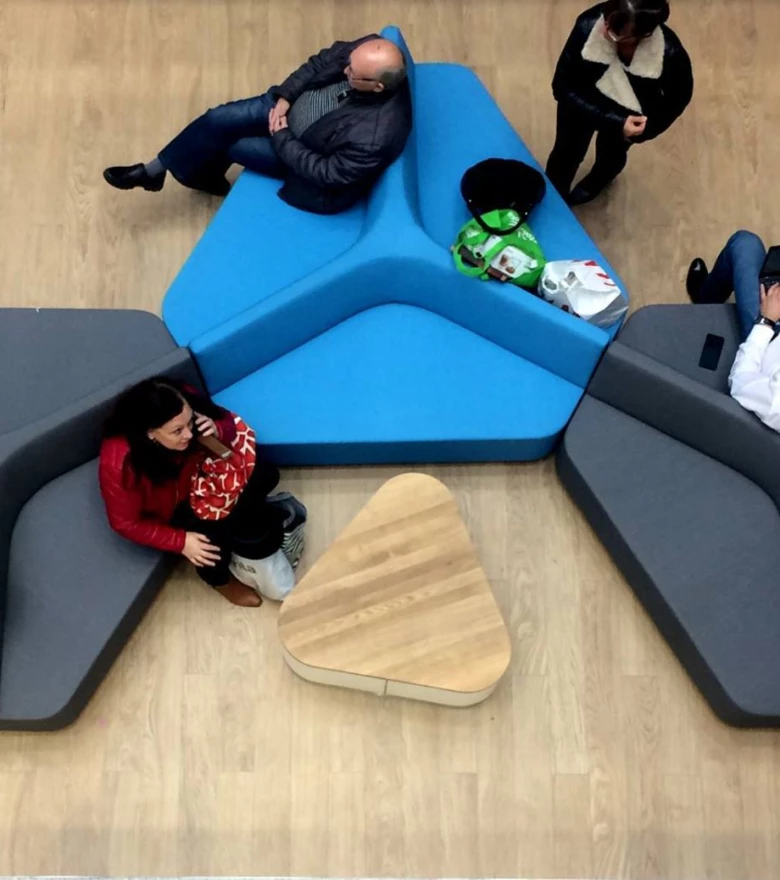 Libero shopping mall opened in the south of Katowice in 2018, and is one of the examples where you can see our manufacturing capabilities in combining different materials in one project.
Libero is two floors of stores and service outlets arranged in a circular shape with a wide walkway. In cooperation with the author of the project, MOFO Architekci studio, we created numerous furniture elements such as : modular sofas, waste segregation bins, charging stations and flower pots, which can be seen in the shopping arcades and food court area. Thanks to triangular poufs and distinctive sofas with a backrest dividing the seat into 3 parts, customers can stop for a moment's conversation, rest, think about their next shopping or repack their purchased items. The combination of white HPL laminate with warm oak wood used in numerous elements fits perfectly into the whole concept of the interior. All these elements, like sofas and pouffes, are made according to the designer's vision on a triangular plan. The pedestals of the furniture were finished with inox sheet metal to protect them from damage, for example during cleaning.
Category
Shopping centers
Object
Shopping Center Libero
Project author
Mofo Architekci
We skillfully combine
materials

in one project

The project also included furniture made from Corian, which we used to make the oval benches located on the first floor, as well as the enclosures for the ATMs and the information center, among other things. At the information center during the coronavirus pandemic, we added additional covers made of transparent Plexiglas to ensure the safety of employees.

The top floor of the Galleria is a relaxation and entertainment zone. There you will find a cinema, a bowling alley, a fitness club, a playroom, a green rest area, a large foodcourt area and a terrace. With our knowledge and experience in producing furniture by design, we have prepared functional, comfortable, yet elegant furniture. In this part, the design office planned a small enclave of greenery, where you can find a moment of respite surrounded by vegetation and the sound of water from spherical, centrally located fountains, for which we made pots and Corian enclosures. A key element of the arrangement are our wooden-metal loungers and unique BIOS HIDE volcanic lava baskets from Danish manufacturer Unknown Nordic, whose official distributor for Poland we are.

A large part of the floor space was dedicated to a foodcourt area with tables on a black iron base with black compact tops and plywood chairs with wooden or metal legs. For this space we also made a modular lodge with a high backrest. We installed safety electrical outlets in the sofa structure made of oak wood. To make the most of the entire space on the back of the sofa's backrest, we installed an additional tabletop, which, in combination with hockers, provide additional space for the lodge's customers. Complementing the whole project are catering baskets made of black compact and wooden pots for artificial flowers.
Do you have questions? Would you like find out more?
Contact us.