Restaurant Metalurgia in Radomsko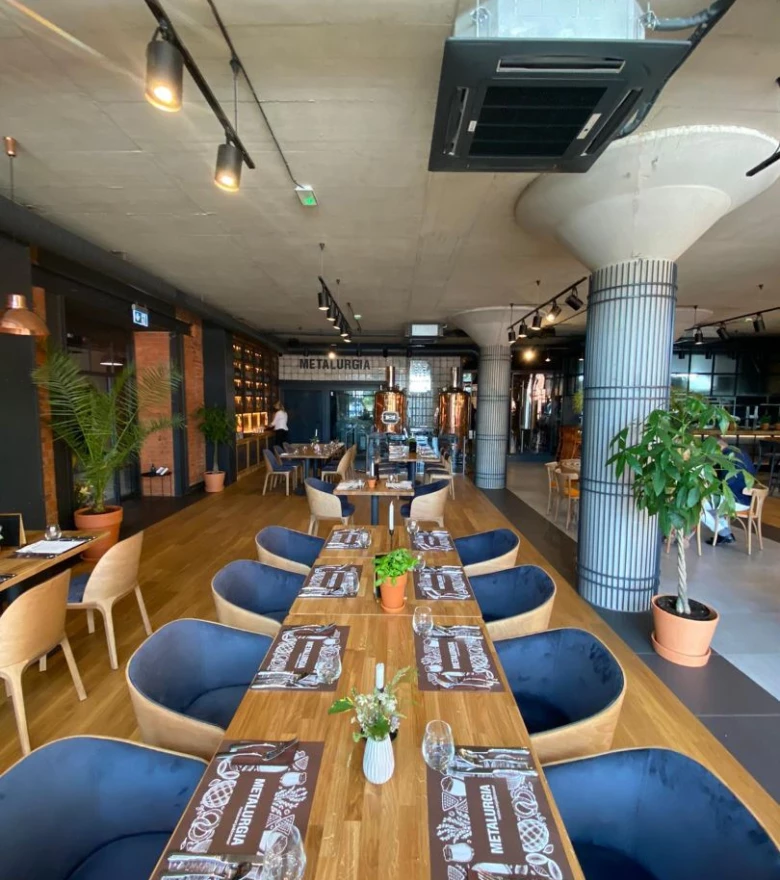 In the building developed after the Metalurgia production plant in Radomsko, there is a restaurant of the same name, serving traditional dishes in a modern version.
Excellent food, an in-house craft brewery, an atmospheric, aesthetically pleasing interior - all this makes Metalurgia a perfect place for meetings with family and friends. The history of the plant producing nails, wire, mesh and other steel products is reflected in the interior design, creating a unique atmosphere for the restaurant.
Our sofas were made according to the architect's vision in natural leather. Installed connectors allowed to connect them into one row, protecting the lodges from shifting. The metal base of the sofas, painted in anthracite, harmonizes with other metal elements of the arrangement, such as bar shelves and table bases.
Category
Restaurants and cafes
Object
Restaurant Metalurgia
Project author
Milk Designs Bartosz Klim
We use only
the best quality

materials

For the arrangement of the high tables, we provided bar stools from Fameg made of bentwood painted in a special RAL color as intended by the designer. Hockers upholstered with Crown Velvet fabric from Ridex collection with Water Clean technology, which provides high stain resistance and makes it easy to keep the furniture clean. High abrasion resistance of the fabric allows you to enjoy the elegant look of the furniture for longer.

Unplastered ceilings, concrete structural columns encased in steel wires, original brick, visible ventilation and electrical installations create an industrial atmosphere and refer to the building's history. All the elements designed by Milk Designs Bartosz Klim design studio perfectly harmonize with the atmosphere of Metallurgy. Among other things, the design studio planned tables on a metal base with wooden tops, as well as chairs and wooden armchairs. Wood combined with steel profiles and mesh was also planned to finish the bars as well as the serving countertop at the open kitchen.

If you like the vision of the interior prepared by the designer and would like to use its elements in your realization, you are welcome to visit us. With us you will find all the furniture elements in one place.
Do you have questions? Would you like find out more?
Contact us.