Restaurant Kuryer in Kraków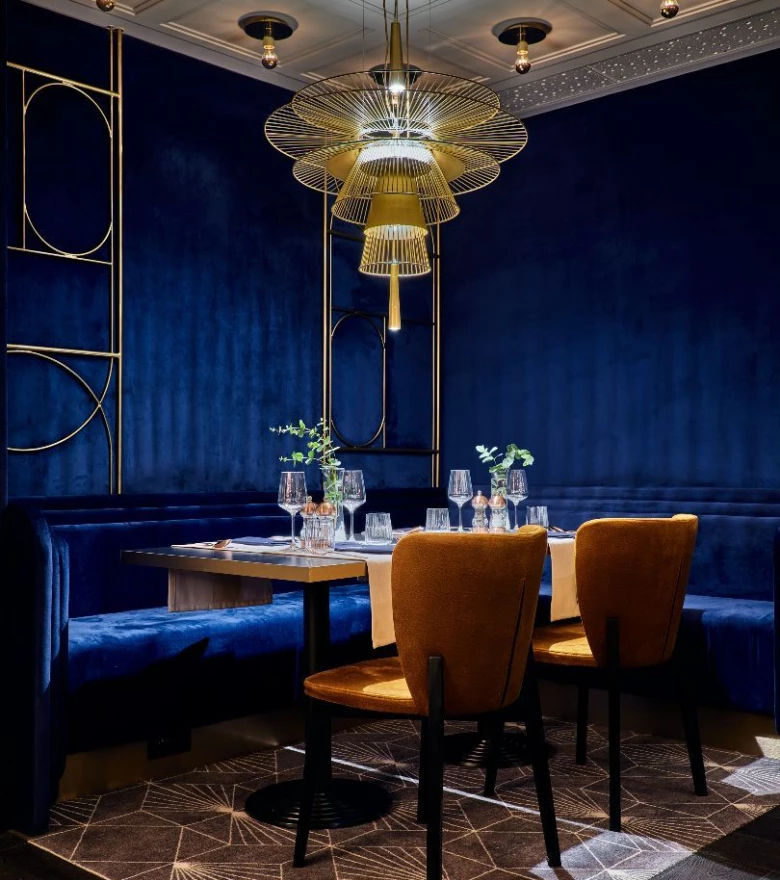 In the heart of the Old Town is Garamond, a Tribute Portfolio the first boutique hotel of the Marriott chain in Krakow. The interior design, which is dominated by navy blue, copper and ivory, was designed by the Krakow-based FØB!a design studio and refers to the interwar period, the Art deco trend and modernism.
A Kuryer restaurant has been planned in the deepened basement of the hotel. We are pleased that we had a part in creating this unusual interior in the atmosphere of elegant interiors of Krakow restaurants of the interwar period. Made for the project, the sofas upholstered with navy blue velvet fabric are characterized by their original three-tier backrest. The pedestal of the sofa with mounted electrical outlets was finished with HPL laminate imitating brushed gold.
Category
Restaurants and cafes
Object
Restaurant Kuryer w Garamond, a Tribute Portfolio Hotel
Project author
FOBia design
We will make furniture
in any style
The combination of navy blue with gold accessories used in the Kuryer restaurant is one of the hallmarks of the Art Deco style. Based on FØB!a design , we made upholstered panels on the walls, which visually form one unit with the sofas, and finished the design with geometric wall decorations in gold. All our furniture was made with extreme attention to detail, so that the entire arrangement, in addition to practical functions, also impresses with exceptional aesthetics.
If you have been inspired by the extraordinary interior of the Garamond Hotel, a Tribute Portfolio or a Kuryer restaurant and want your establishment to be equally unique and elegant, contact us and we will help you choose the best solutions.
You will also find a wide selection of wooden chairs, which we will prepare in your choice of wood and fabric colors. Tables with HPL laminate tops, finished with gold edging, produced by us to any size, will, in addition to their utility function, be an unparalleled decoration of elegant interiors.=
Do you have questions? Would you like find out more?
Contact us.