Clinical Hospital No. 1 in Zabrze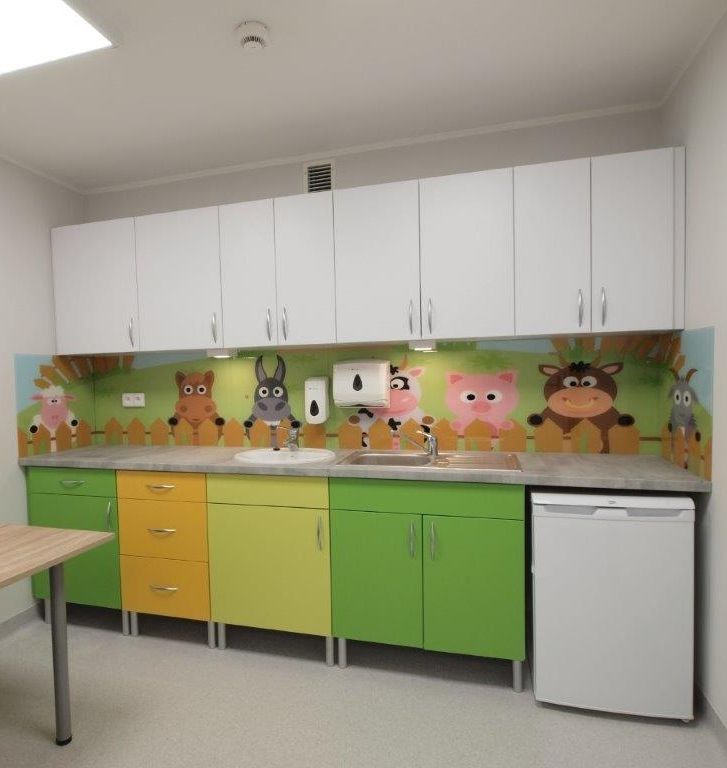 The paediatric wards of the Zabrze hospital have been given a new appearance after the renovation in 2019. The interiors are much more functional, but also attractive and colourful, kept in a children's style.
In accordance with the design guidelines of the Design Studio arch. Maciej Jakiełek, the wards were made in various styles. The Neonatal Pathology Ward is kept in blue tones, the Nephrology Ward is reminiscent of a forest, and the Gastroenterology and Endocrinology Wards have a rural feel.
Each of the arrangements is accentuated with custom-made recessed glass panels covered with decorative foil. The childlike, colourful drawings have a favourable impact on the treatment conditions and mental state of the young patients.
Category
Medical facilities
Object
Independent Public Clinical Hospital No. 1
Project author
Architect Studio Maciej Jekiełek
We take
a comprehensive approach

to each project

We also built wall units and standing cabinets for the treatment rooms. The furniture was made from high-quality board in a variety of colours. The lower cabinets are in blue or a combination of green, yellow and orange depending on the ward's finish style, making the treatment rooms warm and more patient-friendly places. The white upper cabinets and grey worktops contrast perfectly with the coloured panels and standing cabinets.

In order to ensure that our furniture matched the design brief and the size of the space allocated for its placement perfectly, we began the project by taking precise measurements.

After a quality check, our professional installation team fitted the furniture and decorative glass panels, and holes were carved in the worktops we made for the sinks.

We use top quality materials in our projects. We specialise in projects that require the use of materials with the specified certifications. If your project requires flame retardancy or must be made of moisture-resistant materials, contact us and we will advise you on the best available technological solutions.
Do you have questions? Would you like find out more?
Contact us.