Hotel Blow_Up Baltic in Trzęsacz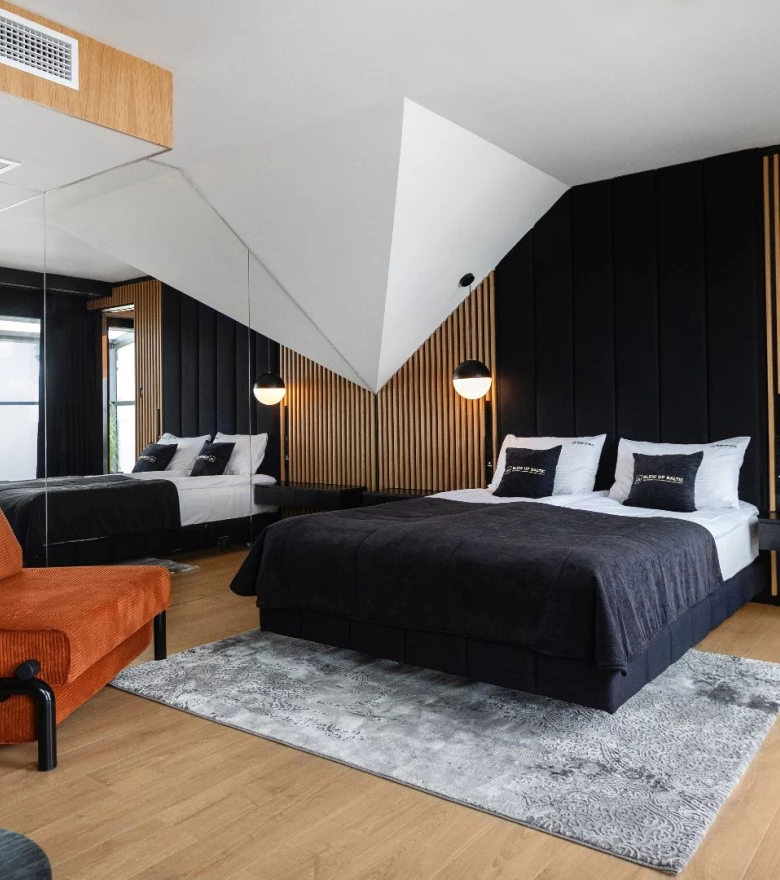 The newly completed Blow_up Baltic Hotel, located in the town of Trzęsacz, offers guests looking for an above-average standard of accommodation at the Polish seaside.
The owner of the hotel, inspired by world design, approached us with a request to help him turn his vision into reality. The productive cooperation resulted in a hotel that is recognized and highly rated by visitors.
The appearance of the hotel impresses guests and the furniture, of which we are the manufacturer, have been favorably mentioned numerous times in comments about the property.
Object
Hotel Blow_Up Baltic
Quality

comes first.

The restaurant and bar area has been equipped with compact tabletops, and each has been assigned a engraved number. The engraving visible in the center of each table is made using a laser method, which makes the color of the tabletop core apparent. Next to the tabletops stand modular sofas custom-made by us, which are in line with the vision of the owner who values the quality of services offered to customers. Our custom sewn fabric for the lodges adds an original touch to this space. Working with well-known brands, we have supplied the hotel restaurants with Polish-made chairs made of black-painted beech wood.

Hotel rooms at Blow_Up Baltic feature wooden lamellas, which are a decorative feature of the walls, bed headrests and front panels of closets. In order to add variety to the design of the hotel rooms, some have been equipped with mirrored-front closets, which optically enlarge the space of the rooms. The varied headboards come with built-in bedside cabinets, as well as sockets and illumination set directly on the panel behind the bed. The beds we have produced are based on a sturdy construction that blend seamlessly into the character of the interiors.
Do you have questions? Would you like find out more?
Contact us.