Tables for fast food bars, restaurants, cafes, premium venues or food garden... What to consider when choosing a countertop?
Published: 8 May 2023
A sturdy table with well-chosen, comfortable chairs is one of the main factors contributing to the positive reception of your restaurant by customers. When choosing this piece of furniture for your venue, you should pay attention to the tabletops, which are the most exploited piece of equipment, and at the same time the element that customers pay immediate attention to after entering the restaurant.
When faced with the choice of the material of which to use for your countertops, you must first of all determine what type of restaurant you will be operating. Different countertops will work well in a fast-food place, while others in a small family cafe, and yet another in an exclusive restaurant. Sharing our knowledge and experience, we have prepared the best suggestions for countertops for different types of restaurants.
Fast-food joints
Fast-food establishments are focused on serving a large number of customers in a short period of time. Due to the intensity of use and high turnover of people in this type of establishments, we suggest choosing melamine or HPL laminate countertops.

Melamine countertops are produced on the base of chipboard covered on two sides with a decorative paper. They are characterized by high surface durability, are resistant to scratches and dirt. What is important in fast-food restaurants due to the absence of wait staff and the systematic cleaning of tables, melamine countertops are easy to clean. At the same time, melamine countertops are also an inexpensive option.
The second option we offer with increased durability is HPL laminate countertops. In these countertops, instead of a thin layer of decorative paper, we apply 0.8 mm HPL laminate to the chipboard. Thanks to a highly compressed layered plastic with an additional protective coating, HPL laminate countertops are very durable, scratch and stain resistant. The coronavirus pandemic has made us realize the importance of sanitization, and no one can imagine anymore, especially in places where large numbers of people gather, lack of attention to regular sanitation. In fast-food joints, it is practically impossible to disinfect tables after each client, so an excellent solution for this purpose will be HPL laminate countertops with with antibacterial coating that utilizes the antibacterial effect of silver ions. This solution can be used successfully in places exposed to a very quick expansion of microorganisms, without fear of harming human health
Restaurants/cafes
This type of restaurant is mainly characterized by the fact that meals are prepared to customer orders, consumption takes place at tables without rush, and as a result, the customers will spend longer time at the tables. Because of this, countertops should not only be a functional, but also be a decorative element of the interior.
If you want timeless elegance and a natural look you should choose veneer countertops. You will get natural, unique and exceptional wood grain and great appearance at a lower price than wooden countertops. Veneered countertops, compared to wooden countertops, are also characterized by much greater durability and resistance to temperature changes, so they will be ideal for your restaurant. When choosing natural veneer, you must remember that it is more vulnerable to the sunlight or the moisture left on the surface of the countertop. Wanting to avoid discoloration, you must remember to wipe up stains or spilled water immediately

Remember, however, that a large number of customers will pass through your establishment daily, so the tables should be dirt-resistant and easy to clean, so that waiters do not waste a lot of time cleaning them. An interesting proposition to make it easier to maintain tidiness are HPL laminate table tops of various designs (solid colors, wooden or metal decors) with an antifinger surface. The countertops have a smooth satin structure, and the special coating prevents the formation of fingerprints. This makes the surface look clean and neat even in between regular cleaning.
Fine-dining restaurants
The best chefs looking for unusual flavor combinations with the best quality products, professional waiters' service, who will give us all the information about the prepared dishes or help us choose the right additions, appropriate tableware, dishes on the plate aesthetically composed, with attention to the smallest details are the features that distinguish a premium restaurant from other venues.
Premium restaurants are also about adequate interior design to ensure that customers feel exclusive and special. Appropriately selected furniture, colors, lighting or decorations must create a culinary and aesthetic experience of the highest level.
Such establishments can not lack the best quality tables. The ideal solution here will be countertops made of natural materials such as wood or stone. The timelessness and versatility of wood and stone means that these tabletops will fit into any arrangement, further enhancing its aesthetic value.

Wooden countertops are natural, pleasant to the touch and bring warmth to any interior. Solid oak wood countertops in natural color are especially stylish. They are characterized by an elegant grain and exceptional hardness and durability. Wooden countertops are an all-natural product, so there may be healthy knots, discoloration or glosses on them, which are a peculiar feature of wood thanks to which each countertop is different and unique.
No less interesting alternative in terms of utility and aesthetic qualities are stone countertops. Stone is characterized by very high strength, resistance to heat and moisture. Countertops made of it will serve for many years maintaining their utility and aesthetic qualities. In our offer we have marble, granite and quartz sinter countertops. Subtle and delicate design of marble countertops will add nobility to the interior, but you must remember that they are the most delicate option among stone countertops and require the most care to maintain an elegant appearance. Granite, on the other hand, is characterized by high resistance to acids, absorption of moisture, dirt grease and bacteria, as well as chemicals. Thanks to these properties, the countertops are very easy to clean and are not subject to discoloration. The most durable countertops in the group of stone countertops are quartz countertops. Although sinter does not occur naturally in nature it is still a natural and ecological material. The process of sinter production uses crushed quartz, shale clay, granite rocks combining them with ceramic pigments. Quartz countertops have a very high resistance to abrasion and mechanical damage, there is practically no way to damage them, so unlike, for example, granite countertops even after many years will bear negligible traces of use.
Beer Gardens
Other tables will be suitable for the interior, and others will work well in a restaurant garden, where the material of the tabletops must be additionally resistant to changing weather conditions. Tabletops are often soaked by rain and in a while exposed to high temperatures and sunlight. Remember that even if you have umbrellas they do not protect the countertops completely. If you choose countertops for a restaurant garden without a roof, we recommend choosing lighter colors.
An excellent solution here will be thin 10-12 mm, but extremely durable compact countertops, characterized by extraordinary durability, resistance to moisture, mold, rot and chemicals. Compact countertops are available in many colors and textures that also imitate wood or stone, so they will not only be practical, but also visually interesting. Thanks to an innovative technological process, the countertops do not require edging, and water will not enter the countertop.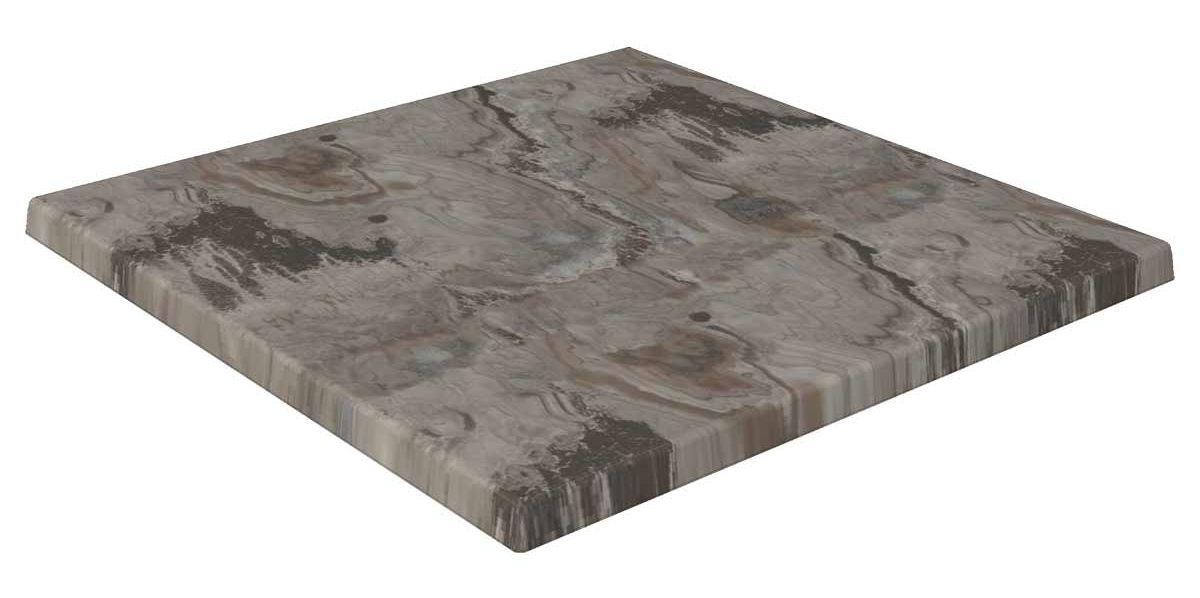 A second countertop alternative that will work well outdoors is verzalite countertops. Shaped in one piece under high pressure and temperature, they produce an unbreakable, stable piece that is extremely resistant to damage and weatherproof. The smoothness of the structure and the antibacterial surface makes the countertops easy and quick to clean - just soapy water is enough to maintain more than 99% sterility without the need for special antibacterial preparations.
When choosing countertops for the garden, you must consider whether you will want to connect the tables together. If so, we suggest choosing compact countertops, the edges of which can be made at right angles, so that when they are joined together, there is no gap formed between them. Verzalite tops, because of the convexity in the center and on the edges and the sides set against the surface of the top at an obtuse angle, are not suitable for joining to create one larger table.
Regardless of the type of restaurant you run, your tables should always be characterized by several features. Restaurant countertops should be of high quality so that they remain in impeccable condition for a long time. Scratched or stained tables are not a good showcase of the venue and discourage customers from ordering meals. Therefore countertops ordered for public establishments such as restaurants, cafes, hotels, bars, waiting rooms or food gardens should be characterized by high durability and resistance to intensive use. The material from which the countertops are made should not be prone to cracking and bending even under heavy pressure.
Also pay attention to the table base. It should match the type of interior, but more importantly, it must match the type and size of the tabletop, so that the tables in your establishment are stable, so that when guests lean on the table with more force, the tables will remain stable and not fall over.
Please contact us if you have any questions, queries about us or our products or if you would like us to send you a brochure.