How to choose furniture for a restaurant, cafe, bar? Where to start...
Published: 4 May 2023
The success of a restaurant is not only about excellent dishes, great service, but also a cozy interior, where you can quietly and with pleasure enjoy the chef's specialties. The furnishing of a dining venue is a series of decisions that need to be made so that our establishment is well received by customers.
Thanks to our Demi Co. offer, you will find all the furniture items for a restaurant, cafe, bar or outdoor restaurant area in one place. We offer upholstered sofas, fixed-seating, modular sofa systems, tables, chairs, armchairs, bar benches, waiter's helpers, but also decorative elements such as flowerbeds, bookcases, hanging metal constructions. A multitude of designs and a wide range of colors will allow you to match the furniture to any arrangement. Classic interior, or maybe modern, minimalist or loft style - with us you will realize any project.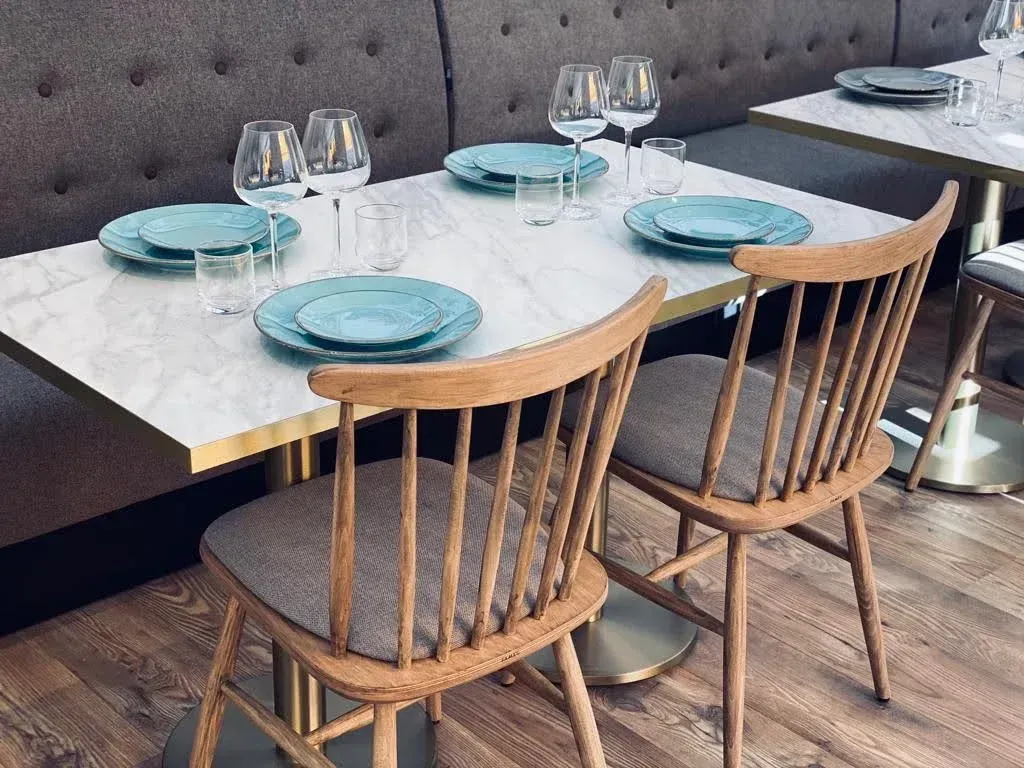 An mandatory element of every restaurant are restaurant tables and chairs. The basic features that a good restaurant chair should have are comfort, stability and a high quality. It is also necessary to match the size of the chair to the size of the table. An inappropriate seat height will cause discomfort while dining, and as a result, customers will not have fond memories of their stay in your restaurant. The optimal height of a restaurant table should be 75-76 cm, and the seat of chairs or upholstered benches should be 45-46 cm.
We offer a range of models of different sizes and shapes, so that you can perfectly match all the furnishings, and customers will enjoy their time and willingly return to your venue. Wooden, metal, plastic, technorattan or upholstered chairs - with us you will find all kinds of materials in one place. In order to completely equip your hotel or restaurant project, we cooperate with many brands from Poland and around the world. Among the leading furniture suppliers are: Fameg, Paged, Nowy Styl, Pedrali, Scab, Nardi.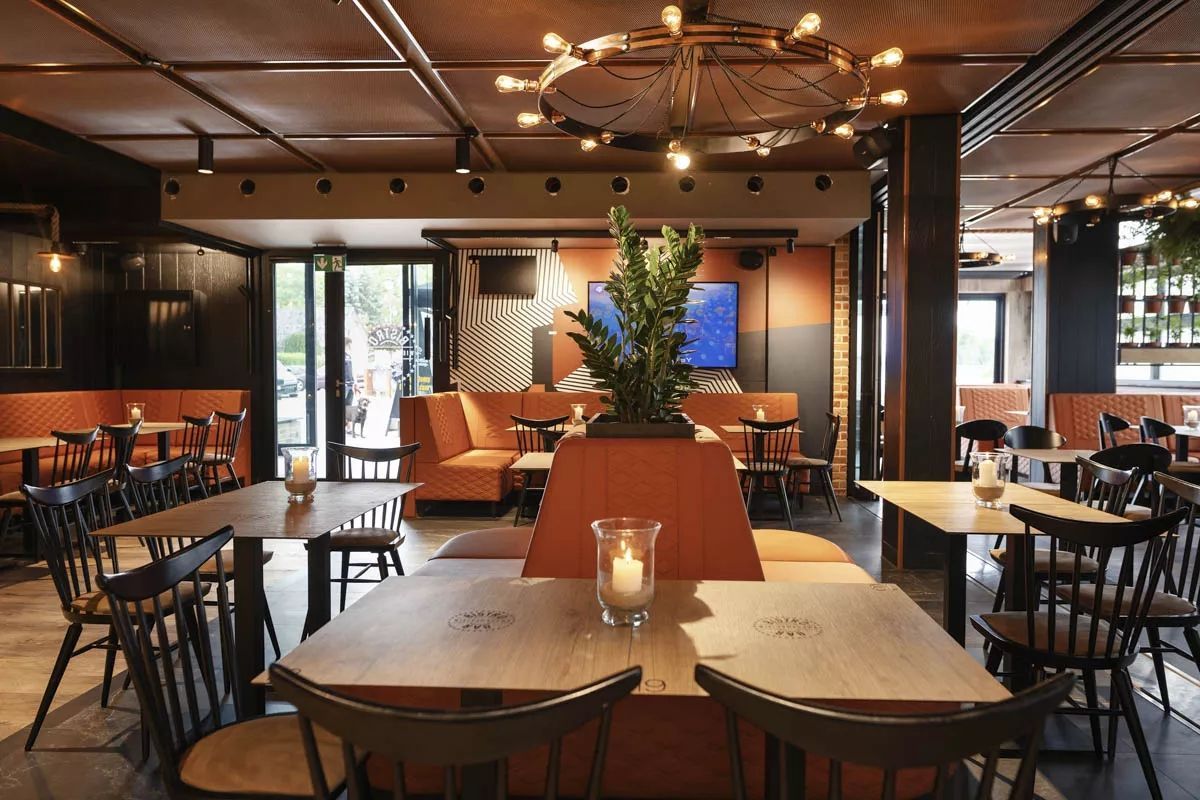 Tables for public venues should be durable, stable and easy to clean. They are the ones that set the tone of the entire interior, and it is their shape and size that affects all other elements of the furnishings. Round tables are elegant, give the impression of lightness and optically enlarge the interior, but you should also remember that they also require more space. If the size of the venue allows it, it is worth setting aside space for at least some of the round tables, preferably in the center of the room. People sitting at a round table face each other, and the table is associated with increased intimacy, but also with equality and reconciliation. Round, smaller tables are ideal for cafes, ice cream shops and non-food oriented businesses.
In dining venues, square and rectangular tables are perfect, with the added benefit of allowing multiple sets of tables to be combined in the case of a larger group of guests. The aforementioned tables also allow for greater arrangement in the restaurant premises.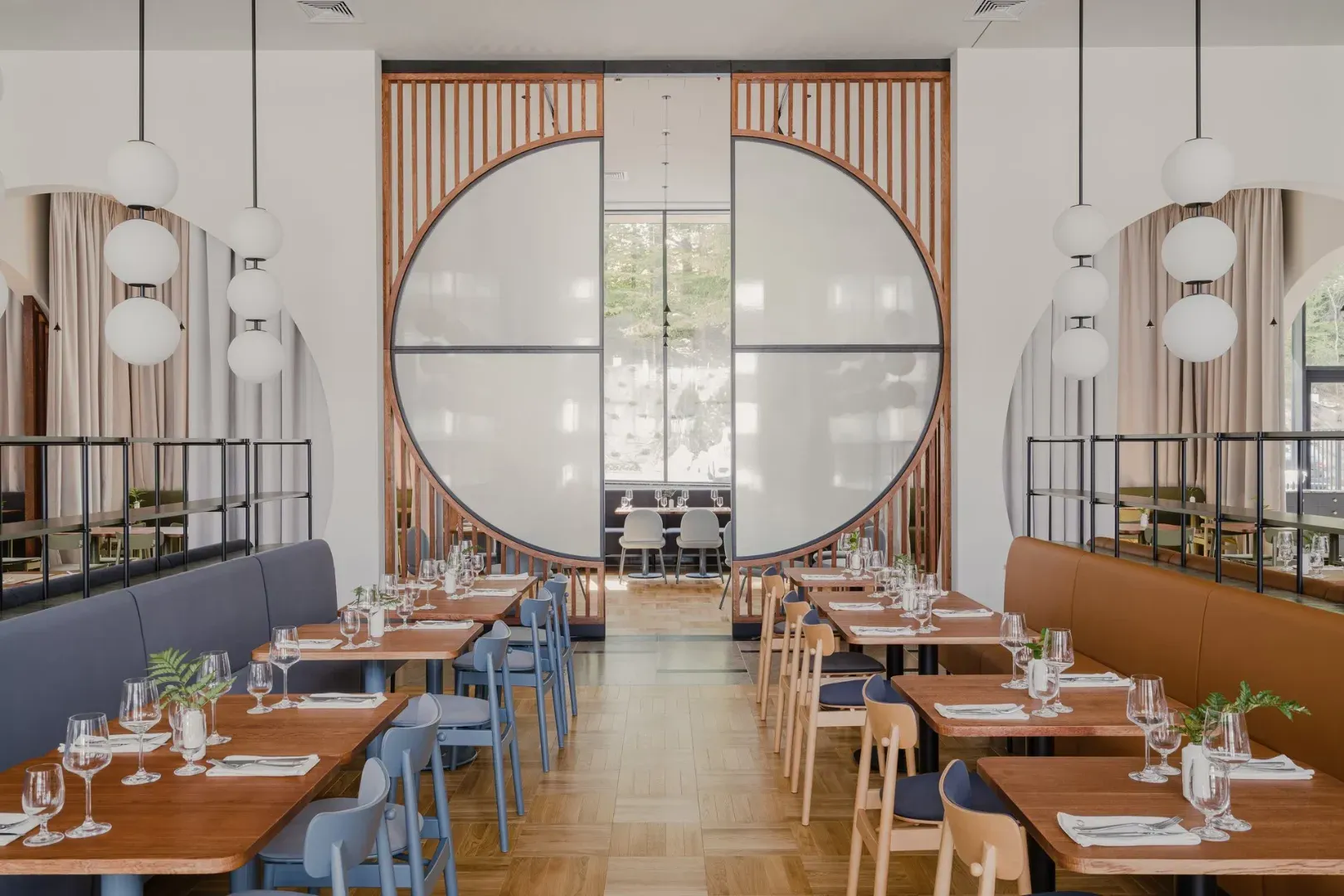 Every owner is keen to welcome as many guests as possible, but it is important to remember that the customer should feel comfortable and have an appropriate amount of space. Each guest should have for him or herself a table space minimum 60 cm wide and 40 cm deep. The distance between the chairs should be a minimum of 20 cm. For fast-food establishments and places that expect a high customer rotation, the required minimal width is 50 cm, and in high-end restaurants 70 cm should be adopted.
No less important for the comfort of guests as well as for efficiency of service is the spacing that should be reserved between tables. The optimal distance between the tables should be at least 120 cm, and the standard distance between the rears of the chairs should be 40 cm. When planning the layout of the restaurant, you should also keep in mind that the main aisle should be at least 120 cm wide, together with the facilities for the disabled.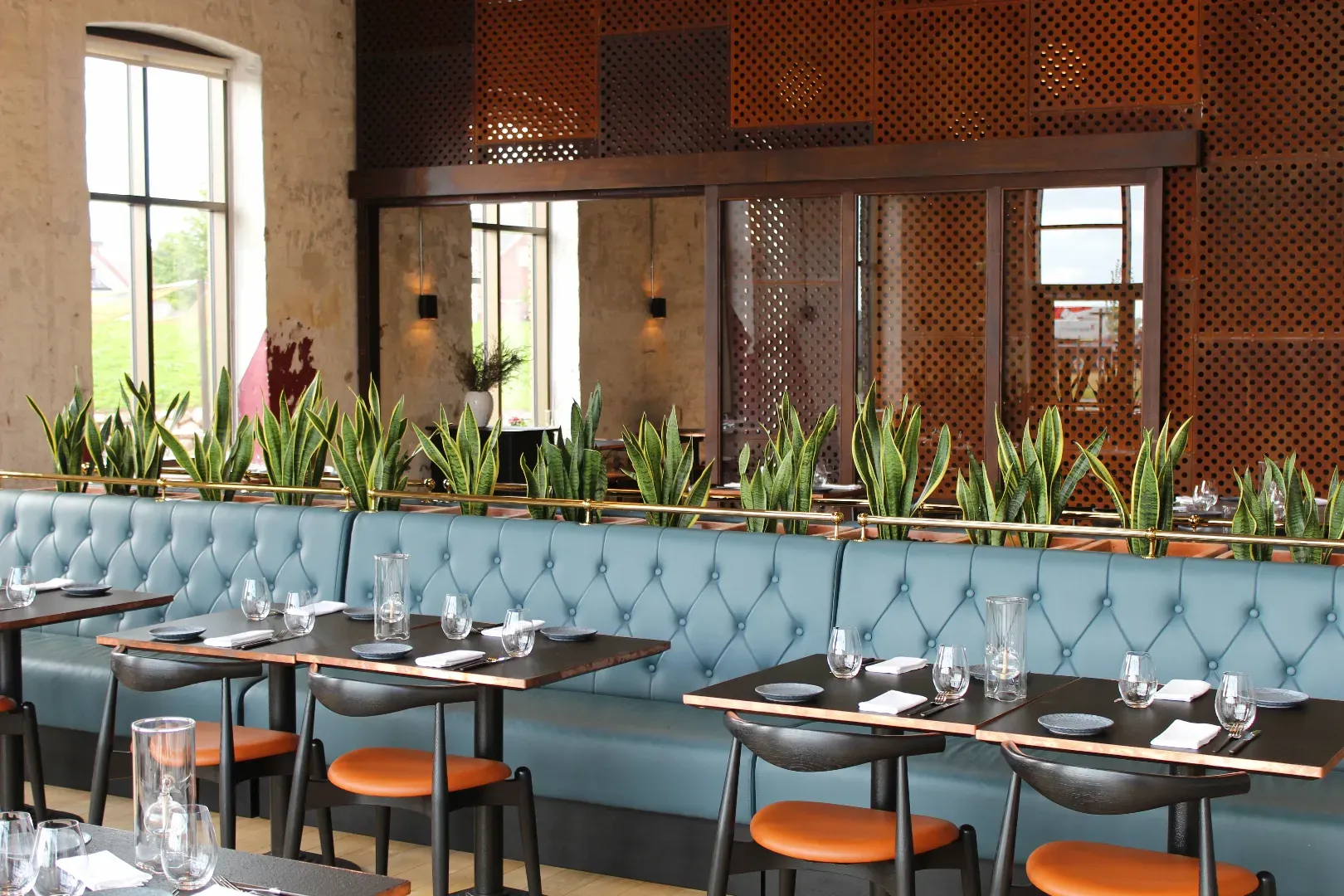 Among a number of restaurant products, restaurant modular sofas are a mandatory element. Properly selected, they will not only be a functional piece, but can also be an indisputable highlight of your business space. Bar sofas will be ideal as a companion to chairs for the dining area, but also as a furnishing element for the relaxation area. As a furniture manufacturer, we are able to make modular sofas tailored to the customer's preference and needs. Our sofas and restaurant lodges are functional, ergonomic and very elegant. We offer indefinite number of back finishes: plain, with stitching, buttons, rollers, Chesterfield. For the base you can pick melamine, laminate, stainless steel, or maybe metal or wooden legs. As a manufacturer, we are able to make sofas perfectly suited to your needs and overall interior design. For a base you can pick from melamine, laminate, stainless steel, or maybe metal or wooden legs. As a manufacturer, we are able to make sofas perfectly suited to your needs and interior design of your restaurant.
When choosing furniture for a restaurant, be sure to choose the right construction materials, including durable, abrasion-resistant fabrics. When choosing fabrics for public places, it is good to make sure that they are easy to clean. Such fabrics have a special protective barrier formed already at the stage of production, so that all stains can be cleaned efficiently without damaging the material. Fabrics that have properties that prevent from absorbing liquids are also an interesting solution. They are covered with a special protective layer that creates a hydrophobic coating to prevent rapid penetration of liquids. Spilled liquid immediately forms into drops and it easy to wipe of with a clean cloth.
An equally important piece of furniture in a restaurant, cafe or bar is a bar counter. This piece of furniture in public venues is especially intensively used. Customers often lean against the countertop, spill drinks, alcohol or accidentally kick the furniture, and the staff is not always able to notice all the dirt and immediately remove it. With the above in mind, it is worth paying attention to the construction material of the bar counter. Especially the countertop should be resistant to scratches, heat, cold and moisture because it will be exposed to considerably harsher conditions than the rest of the furniture.
The bar counter, which is most often a central element of the design of a restaurant or bar, made with the utmost care and attention to detail, made of good quality materials and colorfully matched to the overall arrangement, will be a perfect addition to the entire interior.
Equipping commercial spaces requires attention to the smallest details and nuances to make customers feel welcomed and comfortable. Each element influences the final effect of a given venue, which is why we help our clients at every stage of the project. We share our knowledge and experience so that furniture for the HoReCa market is not only elegant, but also functional and long-lasting. Uneven walls, niches or pillars constitute a big problem in the design of any public use space. Thanks to us, you don't have to be concerned over this problem. We offer a measurement service and make bespoke furniture, so that the entire space of the restaurant will be used to the fullest.