Ecological Interior Trends in Hotels: Inspiration for Sustainable Furnishing
Published: 6 July 2023
Contemporary interior trends are ever-evolving, and one of the most important directions gaining increasing popularity is sustainability. A sustainable approach to interior design not only emphasizes aesthetics but also impacts the environment and guest comfort. Hotels, as places of hospitality and relaxation, are not lagging behind and are increasingly incorporating ecological inspirations into their decor. In this article, we will explore ecological interior trends in hotels and draw inspiration for sustainable furnishings.
1. Natural Materials
Natural materials such as wood, stone, rattan, or wicker are becoming the foundation of ecological interior design. Hotels are increasingly using these raw materials to create furniture, flooring, and even walls. Furnishings made of warm-toned wood or natural stone not only lend unique character to spaces but also create a tranquil, nature-inspired atmosphere.
2. Environmentally Friendly Lighting
Lighting plays a crucial role in setting the mood within interiors. Ecological trends bring forth a new approach to lighting. Energy-efficient LED bulbs, which consume less energy and have a longer lifespan, are increasingly favored by hotels. Furthermore, lamps and sconces made from natural materials such as bamboo or cotton add character and accentuate the ecological style.
3. Recycling and Repurposing
Recycling and repurposing are key elements of a sustainable approach to interior design. In hotels, you can find furniture crafted from reclaimed materials, as well as decorations made from recycled items. An example would be using old pallets as coffee tables or creating artworks from upcycled materials. This design not only reduces waste but also adds a unique, authentic character to spaces.
4. Greenery in Interiors
Green plants not only adorn spaces but also improve air quality and create a pleasant atmosphere. Hotels are increasingly using plants as an integral part of their decor. Alongside wooden elements and natural fabrics, plants introduce harmony and a connection to nature into interiors.
5. Minimalism and Functionality
Ecological trends often go hand in hand with a minimalist approach, characterized by simplicity of form and functionality. In sustainable hotel decor, well-thought-out spaces, multifunctional furniture, and deliberate details are prevalent. Minimalism promotes reduced consumerism and aligns with the idea of environmental stewardship.
Hotel interiors are moving toward more ecological solutions, with inspiration drawn from nature becoming an integral part of modern design. By introducing natural materials, sustainable lighting sources, recycling, and plants, hotels not only create a unique experience for their guests but also set an example of responsible design. Ecological interior trends in hotels are not just aesthetic choices; they represent an important step towards environmental conservation for future generations.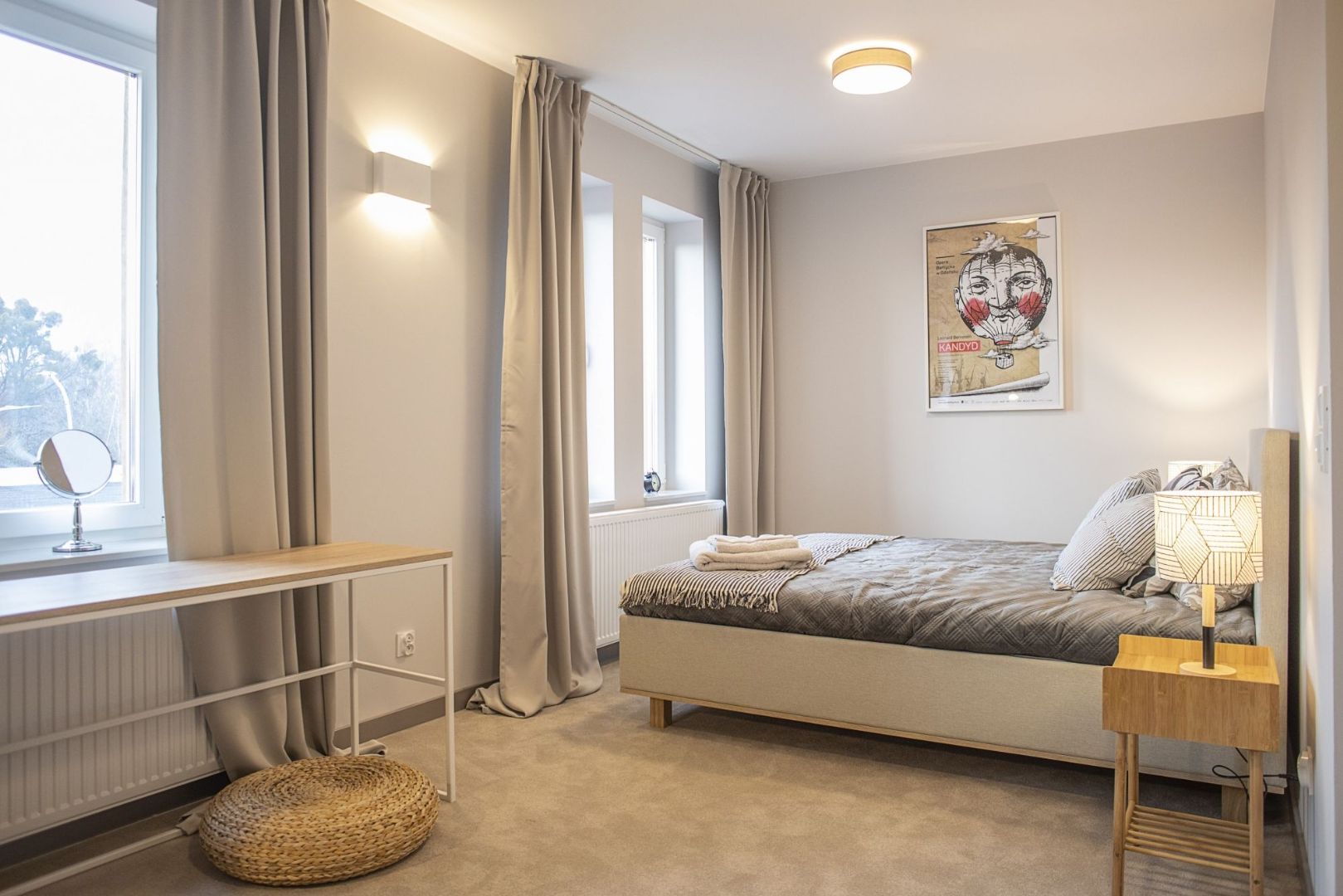 6. Ecological Interiors
Furniture forms the heart of hotel interiors, making the choice of appropriate products crucial. Ecological or sustainable furniture is an aspect that an increasing number of hotels are focusing on. These pieces are manufactured with the goal of minimizing their negative impact on the environment, both during production and use.
These furniture pieces are crafted from materials sourced responsibly, such as FSC-certified wood, ensuring that trees are harvested sustainably. Additionally, manufacturers avoid the use of harmful chemicals like formaldehyde or PVC in the production process, which translates into better indoor air quality.
An interesting trend in sustainably produced furniture is modular designs. These pieces allow for flexible space utilization based on needs. For example, modular hotel beds can be combined into larger configurations or separated into individual beds, enabling optimal use of room space.
7. Multi-Functionality and Flexibility
Multi-functional and flexible furniture solutions are ideal for hotels seeking to provide comfort and functionality to their guests. Examples include sofas that can be converted into beds, tables with adjustable heights, or foldable tables and chairs. Such options allow hotels to adapt spaces to various needs without investing in multiple pieces of furniture.
Conclusion
Ecological trends in furniture design are a significant aspect of sustainable hotel interior design. Choosing ecological furniture that originates from responsible sources and meets high ecological standards allows for the creation of spaces in which guests can feel not only comfortable but also consciously and responsibly. Modular and multi-functional furniture adds both aesthetics and functionality, creating a unique experience for guests and promoting the idea of ecology within hotel interiors.